Weddings at Second Congregational UCC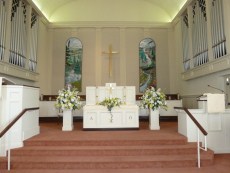 Hundreds of beautiful weddings have taken place at Second Church during its 140 years of history. The church building includes several wedding-friendly facitilities including a 400-seat sanctuary, an intimate 75-seat chapel, multiple rooms for preparation, and a gorgeous Memory Garden which is wonderful for photographs. We have a beautiful dining room in which you can have a simple reception following your wedding. Weddings at Second Church are open to both members and non-members. If you wish, the clergy of Second Church will preside at your wedding. Or, you may have your own minister preside over the service, however you must follow the guidelines set up by our church. The service must be a traditional Christian service. A service outline must be submitted for approval by our Senior Pastor. All counseling will be done by the minister presiding over the wedding. You must use the wedding coordinator and the organist from Second Church. In the event that either of them are not available, they will provide a substitute.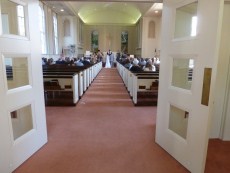 Member weddings are $800 and all non-member weddings are $1,500. These fees include the minister, the premarital counseling if you use our minister, organist, wedding coordinator, and custodian. It includes the rehearsal and the church for the day of your wedding. We do have candelabra and aisle candles that can be rented. If you wish to use the dining room for your reception, there are additional fees for the dining room, custodian, and extra help for serving.
If you desire more information on church facilities, reservation procedures, fees, or anything else, please contact Wedding Coordinator Katie Cripps at (616) 676-9323.