One hundred forty years ago, in October of 1869, a handful of earnest, hard-working, dedicated persons met in a small, frame building located on the east side of Canal Street (now Monroe Avenue).  They had come together to fulfill a mission project of the "Mother Church", Park (First) Congregational Church – i.e., establish a future church in the rapidly growing north end of the city.  The railroad had come to Grand Rapids ten years before and families from the East and from Europe were arriving daily to take up residence.
Located just beyond the city boundaries, north of Leonard Street, its proximity to the Grand River quickly earned the nickname "The Bullfrog Church" for the small struggling church.  A series of part-time ministers deplored competing with the noise the ever-present frogs made (especially with the windows open) until 1874, when the Rev. Olney advised the members he would answer their call only if the church were moved to a drier location. Consequently, the little building was put on log rollers and pulled by horses to a donated lot "way out in the country" at the corner of Plainfield and Grove.
Slowly, sometimes painfully, the membership grew and Sunday School classes were crowded with young people. A north and south wing were added to the original building, but as time passed, it became increasingly apparent that a "new" church was needed and a great deal of effort was put forth to raise the money for this project.  Many money-making projects, potluck dinners, and committee meetings later, the original building was razed and a new foundation laid.
The first "chapter" in the life of 2nd Church was finished.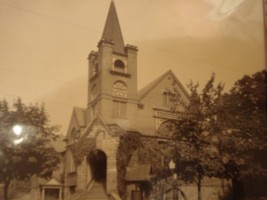 The "new" red brick church, dedicated in 1900, was much larger and more traditional in design, and as the city continued to grow, so did the church membership, and pastors remained for longer periods of time.  The church became not only the "spiritual center" of its members' lives, but the "social center" for many of them as well.
During the pastorate of the Rev. Morris in the early 1900's, the mortgage on the building was paid with due ceremony, and a new organ was purchased by securing matching monies from the Carnegie Fund. A strong music program was begun which has continued to this day.  The years passed and World War I reared its ugly head, but still the church continued to grow until the congregation again became interested in a larger facility which would better serve its rapidly-growing Sunday School.
In 1928 the Rev. Dr. E. Paul Sylvester was called to the ministry of the church and a site for another building was purchased on Cheshire Drive. On Easter Sunday of that year, Dr. Sylvester unveiled an architect's drawing for a magnificent new building, and a "dream" was planted in the hearts of the people.